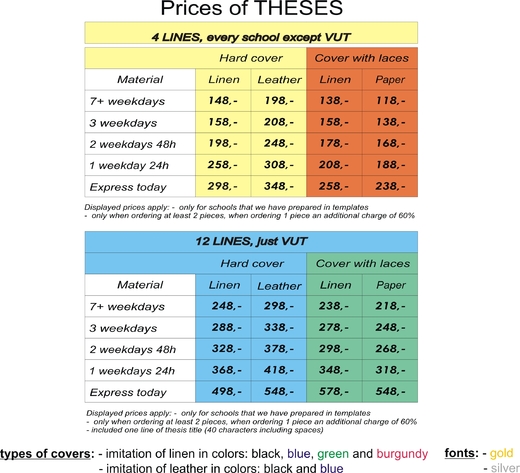 DISCOUNT 5 - 10% WHEN MULTIPLE PIECES
SPECIAL RABAT FOR THESES PRINTED BY US ( THAT WE MADE )
MOŽNOST ON-LINE OBJEDNÁVKY

If you enter theses in our production, you will get a special price for printing:
BW laser print A4: 1,20Kč /
BW laser print color A4 1,50,-Kč
page, colour A4: 3,90Kč / page
printing on 80g paper
Types of covers:
imitation flax in colours: black, blue, claret
imitation leather in colours: black and blue
Types of printig on covers:
Prices valid during the making of theses for two or more pieces:
piece 148,-Kč
cover from imitation flax, included are four lines of print:
name of college, name of faculty, name of thesis, name and year.
When making only one piece of cover with a surcharge of 50% of the total price.
! Not on covers with cords!
Action: It was not even there!
If you take with you fellow students, who will have the same college, faculty and institute, and you will be in the number of:
10 – have 5% discount from cover
15 – have 10% discount from cover
TAKE ADVANTAGE OF OUR DISCOUNTS!!!
Instructions for electronic entering your cover:
Patterns for covers:
Diploma thesis
When printing on the back you need to tell the exact number of sheets, weight of paper and text
For the final making you should give deposit in cash at our store at 80% of the final price
In case you want to print thesis, you must first create an order and pay a deposit and then deliver in person or by e-mail your work in PDF
During payment you choose the look and colour for cover and fonts
Discounts are not cumulative with each other.